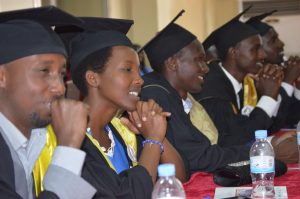 My name is MUHORAKEYE Antoinette, I am 24 years old. I have a Bachelor's degree in Civil, Environmental and Geometrics Engineering and have graduated on 29th July 2016.
It was in 2012 after being granted to continue my studies in University (UR/ Nyarugenge Campus the former KIST) where I have gotten the first marks at my school (College de l'Imma culee conception de Muramba) in Advanced level in Physics, Chemistry and Mathematics (PCM). This year has shown me how great a problem it is to be a refugee. I was happy and proud of the work I've done in my advanced level, but because I am a refugee I became discouraged as the work I've done was going to be null and void because of the refugee title.
I remembered when I tried to go to the University, they asked me to pay 82000frw to be registered and bring the identity card. There is the system called Ubudehe Program which refers to the long-standing Rwandan practice and culture of collective action and mutual support to solve problems within a community. This program is used at every services at the University such as school fees, meals, and the place to live in the dorms of the university. Every student got all those services based on Ubudehe classification.
Back in school from 2012-2013, I lacked of faith as I am not included in the system. It is in that time that DAFI was offering refugee students who have finished their advanced level to apply for University. I applied and got the chance to be hired to continue my study. The year of many tears then became the year of happiness.
Heartily, I thank DAFI in partnership with UNHCR and ADRA as they helped me during all my studies. They paid my school fees and gave me allowances which helped me in all my school needs. On the side, I used the allowances to pay the school fees of my sister in all her advanced level. I paid around 85000frw per trimester, from 2014-2016.
Now I finished my bachelor's degree in CEGE at University of Rwanda Huye campus. I have got a Distinction with 70.28% and my sister finished her advanced level in Physics, Chemistry and Mathematics at the same time with the aid of DAFI. Even if it is difficult to find or create job in this exile, the work done is the one which is very important than the rest. I ask if possible to strengthen this great job you do, by increasing the number of refugee students to continue their study.
May Our Almighty God bless you ALL.
Thank you a lot!