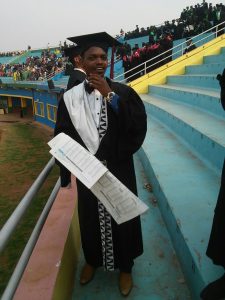 If you have ever been a refugee of any kind, I have no doubt in my mind that in one way or another, you are aware of how tough it can be to get an education and a degree at that. Well, this page you are reading encloses nothing else than the success stories of mine rooted from UNHCR in collaboration with DAFI sponsorship that I benefited from September, 2012 when I first joined the University until July 2016 by the time I graduated from Social Sciences in the Option of Sociology with 75.17 % which is the Second Class Honors with Upper Division.
After completing secondary studies, on my own, I could not afford the cost of the University studies and I would only remember the hard times I faced with no way out and no hope for the future but by the time DAFI came successes begun from then. The hope for the marvelous future, self-reliance, community activities participation, mentoring and modeling different persons of my community are the successes achieved ever during sponsorship among others and have bear positive impacts not only to myself but also to a significant number of people of my community.
After sponsorship, successes are now dramatically coming up in my way like being connected to the scientific researchers where together with Dr. Joseph HAHIRWA (who supervised my Memoir in my undergraduate program), are working on the research paper and I am its main Author and if published, the special debt of gratutide will go to DAFI for the knowledge and skills it helped me acquirer. I have already engaged two friends of mine that also graduated from DAFI in the project of Writing the thankful book of DAFI students in Rwanda under the name OUR MARVELOUS FUTURE HAS GOT THE SOURCE. From this book, our testimonies and gratituudes will be kept and will help interested reseachers and readers know a lot about DAFI beneficiaries as well as our progress and succusses.
I have recently been hired to work at "SAFER RWANDA" as one of their agents responsible for marketing and trading their products "Little Sun Solar Lamps" here and there. Regardless of the nature and the salary of this work, lots of things are positively happening and still the sky is the limit because best things are yet to come as long as DAFI and its partners have given me the know-how and upon them I do attribute all foremantained successes.
Emile NDAHUNGA is a student beneficiary recipient of the DAFI scholarship from 2012-2016. He studied in University of Rwanda Huye.