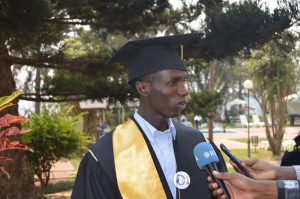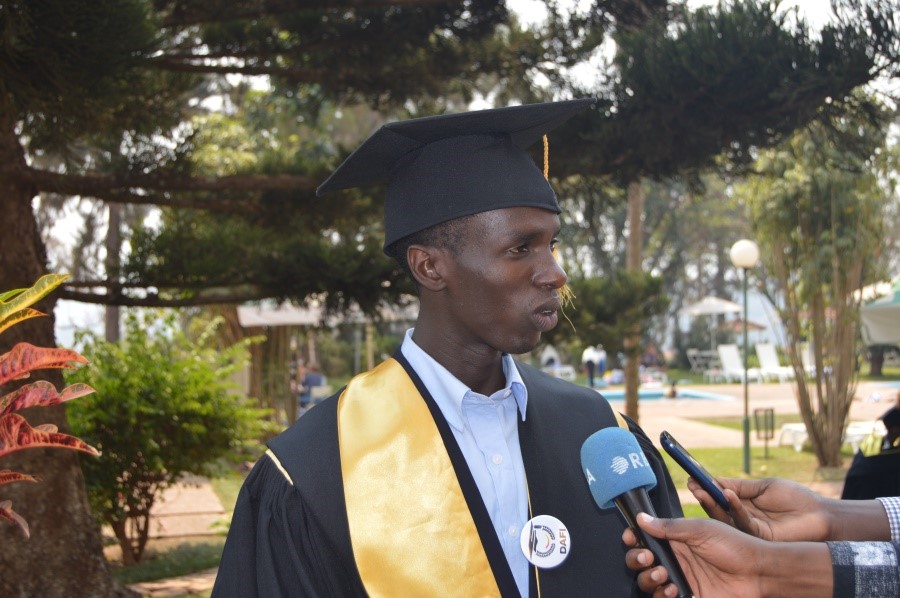 By the life of struggle, of bad conditions, living with no vision, no sight to see at the end of the shore where I was willing to stand due to racism of my country due to our ethnic,  DAFI has come to my life as a blowing wind of summer to wet the sweating body, sweated by grief, pain and losing the real direction of my vision due to education challenges.
But DAFI, was there, for sure DAFI has been my comfort at that time of loneliness, sobbing and frowning mind but at that day of selecting my name to be sponsored by DAFI, the hope has came back as someone who was in coma, and led me through my vision. When there is no hope, no vision and hope as refugee was in education, because there was no land to till and no cows to farm as we used to do before we fled our natives land.
In 1997 we fled our country and we have been placed in Rwanda but life was no good. Lliving in life with no determination, living in a small room as a family of 10 members and later financial means was the main challenges when I was to go in advanced level of secondary where I used to re-teach myself for one year.
And we fear of striving for my education and helping my family by doing causal labor to feed them but with the real people that was there thinking of me (DAFI).
Simply life was no fair but with a help of DAFI scholarship I have been able to remove some challenges in my life and to my life and am able to compete on market even if it seems difficult as it requires always a price for a success but not a tagging price but a bargained price at fixed costs, and life is to stop worrying about the things that I can't control but started focusing on the thing you can, to free yourself from fruitless worry of yesterday but not to forgot it's because if you cannot run from your history , you will rely on the present only. So why because you didn't been a victim, no matter what you been through ,the necessary you are still alive because no one knows tomorrow if even if we predict for , as I was weeping but later in the morning DAFI has washed my shedding tears and a man who want to move a mountain begins by carrying small stones.
Since then, the dreams of my parents were getting closer to reality seeing me studying in university. As the times never stops, finally the day of my graduation came and I received a Bachelor's Degree in Business Administration with the help of DAFI. Sincerely I have blessed with that and my vision is to become the Ministry of Finance in the Democratic Republic of Congo (my native lands). Due to what? Simply because "He who has a vision never spent his time doing nothing because the vision you have determines your destiny," said MUGISHA Sylvin Magari.
Through knowledge gained from University of Rwanda, today, I am an entrepreneur, a supplier of food in refugee camp as the provide today money to them. A fed mind brings real ideas and changes lives.
I am focusing on my vision and to continue my study and I wish one day I will benefit again a Master's scholarship from DAFI to advance.
At the end, let me formally give meaning to my success story that kindness is the language which deaf can hear and blind can see. Although I do not have sufficient words, on behalf of all refugee students of this region, I seize this opportunity to thank UNHCR, and Germany government, ADRA Rwanda, and all those who are directly or indirectly helped with our education through this project. May the Almighty bless you abundantly.
Magari Sylvin Mugisha is a student beneficiary recipient of the DAFI scholarship from 2012-2016. He studied in University of Rwanda Huye and was a refugee at Gihembe refugee camp.