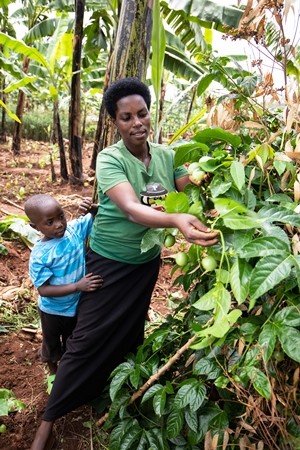 I am called Ruth Nyirahabineza (45 years) living in Murori village of Migera Cell in Mwiri Sector of Kayonza District, Eastern Province of Rwanda. I am a widow with 6 children, the oldest being 15 and the youngest being 3 years old. I am a member and a Leader mother of the "Ejo Heza"[1] Household group made of 10 members.
It is about 3 years when the village leadership and the Community Health Workers mobilized us as mothers of children below 5 years to form groups of 10. I was elected by my group members as a leader mother although I had never been in a leadership position before. I was shy and I could hardly speak in public but slowly I gained self confidence as a result of being engaged in leading my group. I very happy of the changes and steps I have taken in my home as well as among my group members and the community at large as a result of the PROMISE project.
Through the project, I have a kitchen garden from which I have all sorts of vegetable. I always thought that vegetables like amaranths grow wildly while others like carrots, beetroots could only be grown in swamps/marshlands. From my kitchen garden, I have more vegetables than I can consume as a result, I am now selling some of them to get an extra income. I now have an income of not less than 7,000 RwF (CAD 12.5) per month from my kitchen garden instead of a minimum of 6,000 RwF (CAD 10) I used to spend on vegetables in the same period.
The kitchen garden has brought a lot of joy among my children because of the reduced time in cooking as well as the burden of gathering firewood. We now use small quantities of fire wood when we cook vegetable compared to dried beans.
As a result of the training sessions offered to me on appropriate farming; hygiene and sanitation; growth monitoring together with the material support like vegetable seeds, rainwater harvesting kit, farming tools; my children are healthier than before.  While my last born was sickly and malnourished and was supported by the health center in getting flour for porridge and asked to provide fruits, I am happy today that my children are feeding on vegetables and are very healthy. I don't regularly go the health center as I used to.
I did not know I had leadership skills. - Ruth
From the sensitization by the PROMISE staff, we have started a savings activity where we save on a weekly basis thus giving us access to money. From our savings, members and in particular women have gained confidence to get short term loans at an interest and we have no defaulters so far.
As an impact of the PROMISE project, 100% of the household group members have kitchen garden and so far only 47 out of 247 households (including non-project beneficiaries) in this village now do not have a kitchen garden. We have taught our neighbours and also provided them with seedlings.
 I have established a fruit tree and vegetable nursery I intend sell some of the seedlings to the community members that will continue to grow vegetables, and thus increase my sources of income.
Prepared by: Martin Rutazigwa, M&E officer