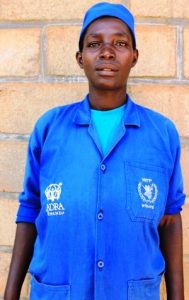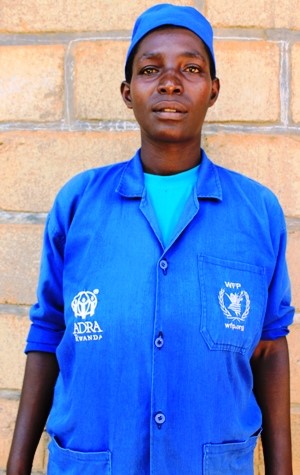 I am called Tharcienne Bigirimana. I was born in Gisagara District of the Southern Province of Rwanda in 1997 and I am married with 5 children composed of 3 girls and 2 boys. My eldest born is 23 years while the youngest is 14 years old. Together with my children, I also have grandson from my daughter whom I am responsible for. I live in Kabuga village in Ruhunga cell of Kibirizi Sector.
I have been working with the School Feeding program as a cook at Groupe Scholaire Kigeme since 2012 until now. It takes me about one hour from home to get at work. I leave home at 5am and I start work at 6am together with my colleagues. My husband is farmer but is very happy for me to be working here and earning something to contribute to the wellbeing of our family. He values me because he feels that I am partner in the development of our family.
Through the School Feeding Program I manage to save about 100,000Rwf per year through savings group. I bought a cow which has already produced 3 calves. I also bought a 3 goats and a piece of land which thus increase the land for the family. I told my husband not to worry about paying for the health insurance and he knows that that is my responsibility now for all these years. I do pay school fees for our children and buy school materials like uniforms and the like. My husband is actually proud of me but all this is because of me being part of the School Feeding program.
Apart from benefiting from the School Feeding as cook, I am also a beneficiary as a Parent. Two of my children are studying at this school. As a parent this program is beneficial in a way that you don't need to prepare for breakfast or lunch. In that way the family burden in finding food which is scarce is reduced. The likelihood of children dropping out of school due to insufficient food at home is eliminated. My children do make sure that they get to school early because they don't wish to miss the porridge. While the local leaders used to struggle to get children in school, the school feeding program has completely solved it. Children can concentrate in class because they have eaten. It is now very rare for a child to find excuses for not going to school.
As a parent I am very happy and appreciative to ADRA and World Food Programme for supporting this project. I wish it can be expanded to cover other schools where it is not because of its benefit to both the children as well as the parents.
Reviewed by: Francoise Murekatete, SFP Project Manager
Prepared by: Martin Rutazigwa, M&E officer